Support and Web Trends
- a focus on technology and design, plus our support portal
Elements of Style
In Web Site Design
Why Remodel?
March 5, 2012 - The industry is shifting to mobile and many of our customers were migrating to iPhone and Android devices. And we had some really good things happening at Amicus and we needed a web design that inspired our viewers to click more and explore deeper into the site. Web sites are now places to experience, not just sources of information.
Graphic Effects
Depth using Focus Techniques - The real world is 3D and when your eyes focus on an object, the background is out-of-focus. We can add depth by making the background blurry or with fuzzy detail. See before and after below: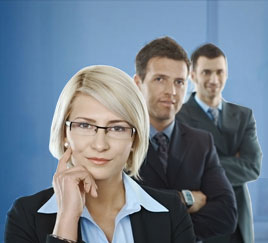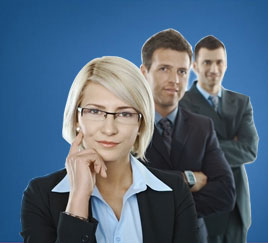 Depth with Shadows - Notice how shadows are on all subjects above. In addition, the image is rounded at the bottom to increase the 3D affect.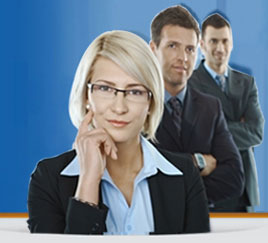 Emphasis
Our work and our services were first priority. Again, we had some interesting things happening and we wanted to show our viewers.
Simplicity - If you know your core emphasis on a web site, you are free to remove all of the clutter that does not support it. It is not easy, but necessary to keep your message clear.
About Us - Yes, this is important, but not our core message. We moved it to the bottom of the page, but also made it accessible from our logo.
Columns - Columns increase the amount of information that the eye sees as it moves across the page. Two many columns mean too much information. We minimized the columns.
Our first try had three columns, but we wanted less.

Our next mockup had no columns, but two areas of the screen. Still a little busy, but better.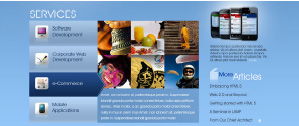 A Message from Our Chief Architect - We had kept this section throughout the mock-ups until the very end. To simplify, we moved it to our technical documents section.
Efficiency - Make the most use of your screen real estate. We considered a scroll bar for our portfolio.
Our first try had three columns, but we wanted less.

Interaction - Users are busier and more sophisticated than ever before. To get them to click on a link, they need to know why they should. Interactive objects allow users to be more efficient in gathering the information they need. We opted for a scrolling option bar with mouseover text to fit a lot of info in a small space: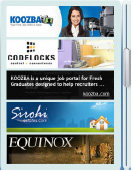 Theme
If you are not a store, restaurant or saloon with an ethnic flavor or a consumer goods company that paid millions to find a theme, then it may be difficult to come up with one for your web site. If you are creative, you can pick some colors and add texture or fade to begin your theme. Here are some things to consider:
SimplicityDon't Stop at the Top - Many web sites have a beautiful top banner, but then stop designing. White (or gray) space can be an advantage, but not when it detracts from the theme. In this early mock-up of our web site, the lack of theme does nothing here for the web page. My eyes are looking for somewhere to view next and there is little here to make me want to go further.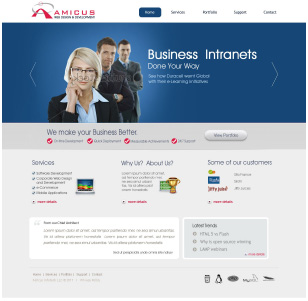 Framing - add color or texture around your entire web page. In this early mock-up, we considered a band of color down the left side of the screen to keep the theme going. You may notice that the content is very busy and lacks organization. While the color band works, we scratched the design for a simpler overall interface.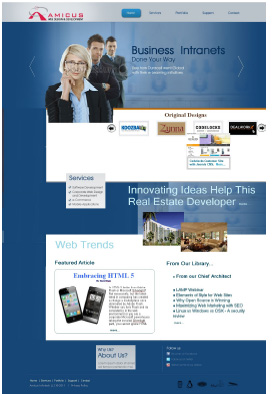 Crossing Lines - It is easy to fit pictures or text into nice neat squares, but this can create a box-like design. The real world is not box-like. There are defects and overlapping characteristics and your web page can work the same way. In this early mock-up, our pictures crossed the line from blue background to white space: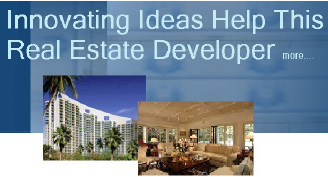 Fonts - Your fonts will highlight your theme, especially if you use large fonts sparingly. In this early mock-up, our designers used light blue and white font to stand out, yet still adhering to the color theme.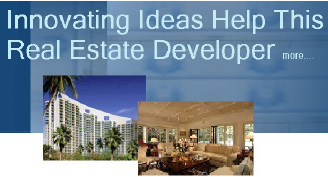 Web Site Remodeling
A good web page design will pull your viewers in and empower them to find the information they need. Never shortcut on the interface or theme, because it will lead to a mediocre experience for your viewers. And do not be afraid to break the rules or to be different. Use a graphic designer - it pays off. At Amicus, we are fortunate to have our own design team who can create the necessary effects and interface features.
I leave you with a last set of questions… think about each object that you place on your web page and ask yourself, can I do this better? Do I need this object? What would it take to make something more interesting or noticeable? How can I help the viewer learn more, in less space?
Comments (1)